There are several things you can do to ensure your Oakley's are authentic and not a fake.
1.
Check where they are made. Most of the sunglasses are made in the USA and most of the eyeglasses are made in China, yes I said china. Also a few of the sunglasses are made in China, so don't be surprised.
I know people tend to think products coming out of china is a bunch of junk, but the Oakleys made in china is still by them, just one is put together by the Chinese and the other by the Americans.
Square Wire Model Clearing Showing Made in China
Champer Model Clearing Showing Made in China
Currency Model Clearing Showing Made in China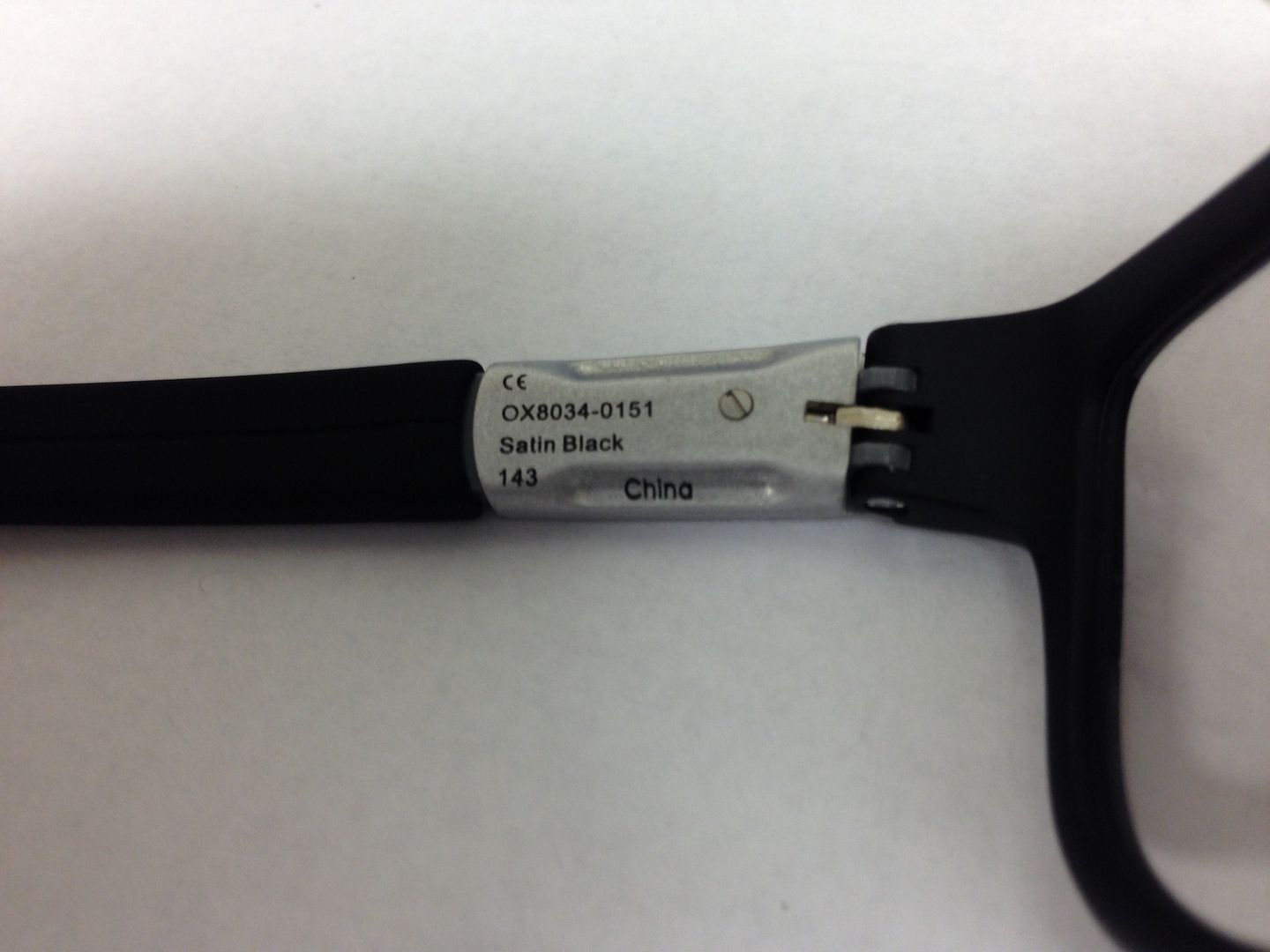 Marshal Model Clearing Showing Made in China
2.
Your Oakley should come in a box and the following included, a hard Oakley case, Oakley Soft Pouch/Cleaning Cloth. Sometimes you get the hard case with the soft pouch, but certain models only comes with the soft pouch. If that is the case, no pun intended, you can buy a hard case from Oakley.
3.
Oakley does not come with a Authenticity Card. You should receive 2 booklets with your sunglasses/eyeglasses. One is the Warranty Information and the other is to register your frames for warranty.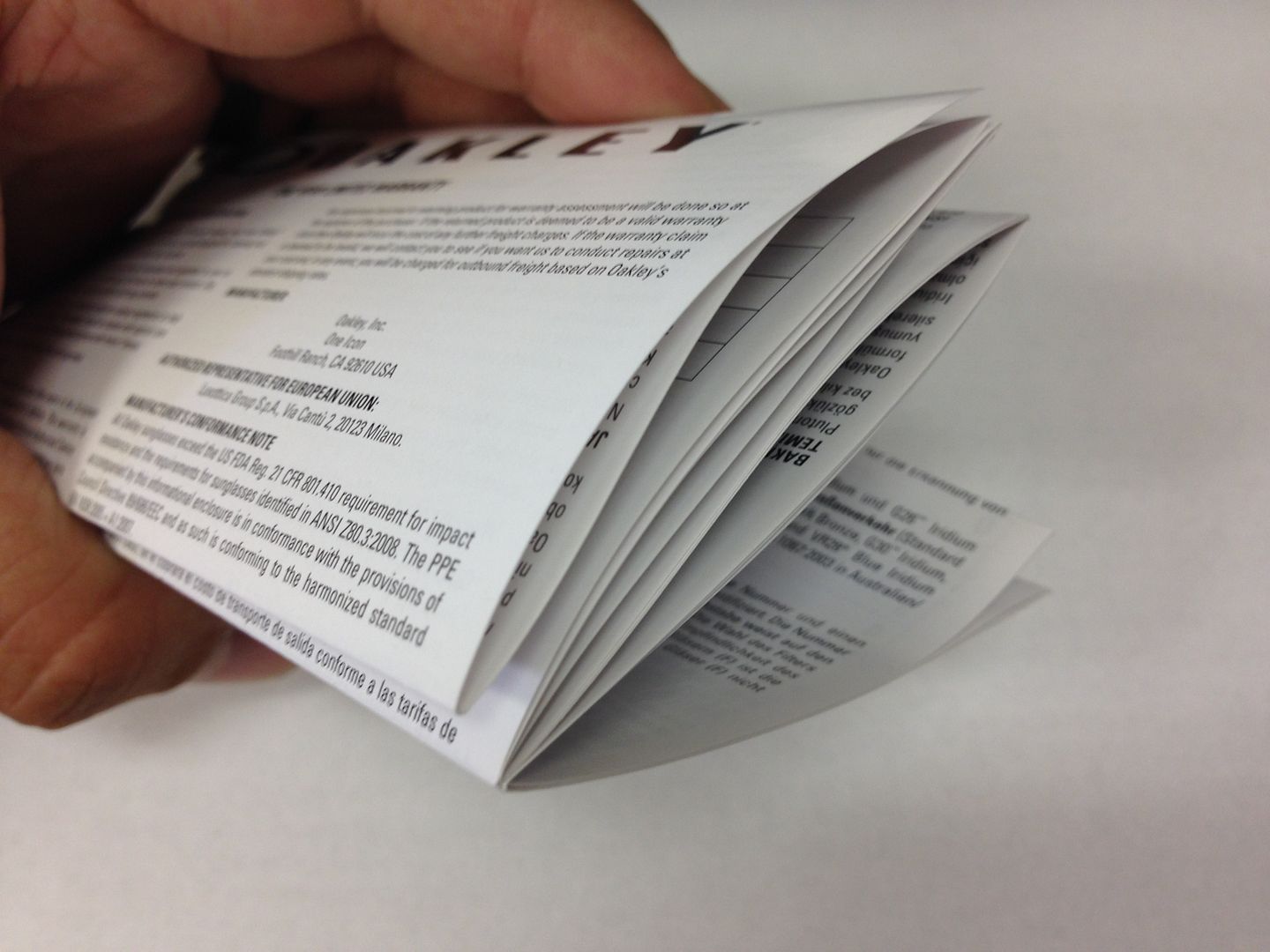 One Year Warranty Booklet
Registering Your Frames
4.
The model number situation can get a bit confusing. But of course, if what you have does not match the model number of the authentic Oakleys, you obviously have a fake.
A model number starting with...
"OX" are Eyeglasses
"OO" are Sunglasses
But a certain few sunglasses does not start with a OO, such as the Frogskins & the Gascan, they only have five numbers, like this Gascan 24-435. "24" part is the model number and then anything after the dash "-" is a the color code, so in this case it is "435"
But with the most of them, they will have a 8 number/letter code. There is a slight difference with the sunglass and eyeglass codes.
Eyeglasses - OX8026-1354
The "OX8026" is the model number. After the dash, "13" is the color code then the "54" is the lens size (width) so that would be a 54mm size.
Sunglasses - OO4075-06
The "OO4075" is the model number and after the dash, "06" is the color code.
5.
Every single Oakley frames will come with a box, no exception. If you receive your Oakleys without a box, question the authenticity.
6. If your Oakley sunglasses claim to be polarized, don't just take their word for it. You can do a simple check if they are polarized. All you need is your computer monitor and your sunglasses! Put your sunglasses in front of the computer monitor and turn it to the right, while looking through the lens at the monitor. At a certain angle, if they are polarized, the screen behind will seem to go dark. If it does not do anything, then it is not polarized. If the sunglasses claim to be polarized, but don't show polarization in this test, you either have a fake on your hands or an error was made during manufacturing. I've seen some frames come out of the factory with a faulty polarization, so don't rule that out.

7. Check the fonts on your Oakley sunglasses. Many times, fake Oakley sunglasses get this part wrong. They attempt to do it as close as possible, but rarely ever get it 100% right. If you have an authentic pair available, compare the fonts used.

8. The best thing to do is to go to a authorized Oakley dealer in your area and compare the one you have with the one in the store and they should be more or less identical. As mentioned, certain specifications printed on the interior temples could be on the opposite, but that's common across frames as they could have been an error with that particular batch.

You could ask the person in the store for their opinion, but definitely take it with a grain of salt. Stores are staffed with sales people, after all, and helping you to determine whether the frame you bought at a discount from their prices isn't making them any sales! Even mentioned the words "bought online" seem to automatically trigger them to tell you that your frame is fake-but, you're in luck, you can buy the one they have there! Sometimes you'll find a gem of a salesperson who can truly help, but be aware some are less than knowledgeable. So I would suggest going to more than one place and getting multiple opinions.

9. Buying your Oakley's online? There are lots of fakes being sold online, but there are also legitimate sellers as well, so don't assume they are all fakes because it is being sold online.

You should look at things like if they are standing by their products, such as "100% Authentic Guaranteed". People who are selling fakes may not want to put that because it isn't authentic, but sometimes they might, look closely and lots of times maybe at the bottom or somewhere around the page, you might see something like "replica Oakley", "looks like Oakley", "similar to Oakley", "good Oakley copy" as if they mention that, then they can't really get in trouble because they told you it was a fake vaguely, so read their page carefully.

If you're buying Oakley sunglasses on eBay or Amazon, you should look closely at their feedback, if they have too many negatives and mentioning the item they bought was a fake, you might want to be careful. But take a look at the big picture! Let's say they have over 2 thousand feedback's in a year and they only have like 1-3 negatives saying they are fake. Are you honestly going to take the word of 1-3 people? What about the other 1,997 happy customers- are they all that stupid? Not everyone is as skilled as you're going to be at spotting fake frames and may jump the gun! Look at the feedback ratio and go from there.

I hope this guide has brought out a bit of your inner nerd and offered some education so that you, too, can be a fake-detecting, imitation sensing eyewear nerd!





Keep rockin' those shades,
Eyewear Nerd




Related Posts

What is the H sticker on Oakleys?